Meet Aideen…This could be your fantasy cover art!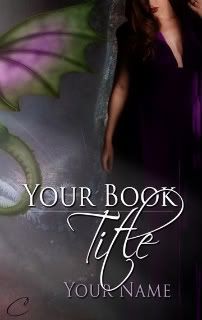 Aideen O'Leary-Chung is the Manager of Digital Commerce and has been doing sales and marketing of eBooks for several of her ten years at Harlequin. She will be working with Eleanor on the eBook Store but her main focus at the moment is the creation of covers as well as promotion around Carina Press. She's an entertainment multi-tasker – within the comfort of her own home – where television plays far too large a role in her life and she often has several books on the go at the same time, one for every room and one at hand for commercial breaks. Working at Harlequin is the perfect antidote for her male-dominated household where she's outnumbered by her husband and two sons.
One of the aspects of working on eBooks that I love most is creating the covers. It can be both exciting and challenging to put together a cover that does justice to the story. We decided to create several draft covers to illustrate Carina's range of editorial and give people a sense of the style of our art. Every day this week, we'll feature a cover in a different genre. Just think, if you're an author, any one of these sample covers could have your name on it!
Our first sample cover was in the fantasy genre. Mandy M. Roth was the artist and I love it. It wasn't without its challenges though! In the past few years, I've worked on a variety of covers but I've never dealt with dragons. Having read about them, I was aware that they could be capricious creatures, but I wasn't fully prepared for the challenge of capturing one on a cover.  We had our heroine, colors and font at Version 1, but the dragon….well, we auditioned three of them to get the right one.
In Version 1 (bottom left), the dragon was realistic but appeared a bit fresh for our liking.
In Version 2 (bottom right), our dragon was in flight, but the cover seemed to lose some of its mysticism and I questioned his commitment, he didn't seem convincing.
Finally, we settled on the suggestion of a dragon, a touch of its wing, the tip of its tail…which prevented the dragon from stealing the spotlight.
Working on these covers was a blast for our team. The Carina crew weighed in on every version of this and the other four sample covers. It was another exciting step in bringing Carina titles to life and to launch. And with our recent title acquisitions , we've started kicking into high gear on the launch covers. So feel free to share some of your pet peeves about covers and we'll be sure to try and keep them in mind!