A little more about Scene Stealer
Scene Stealer by Elise Warner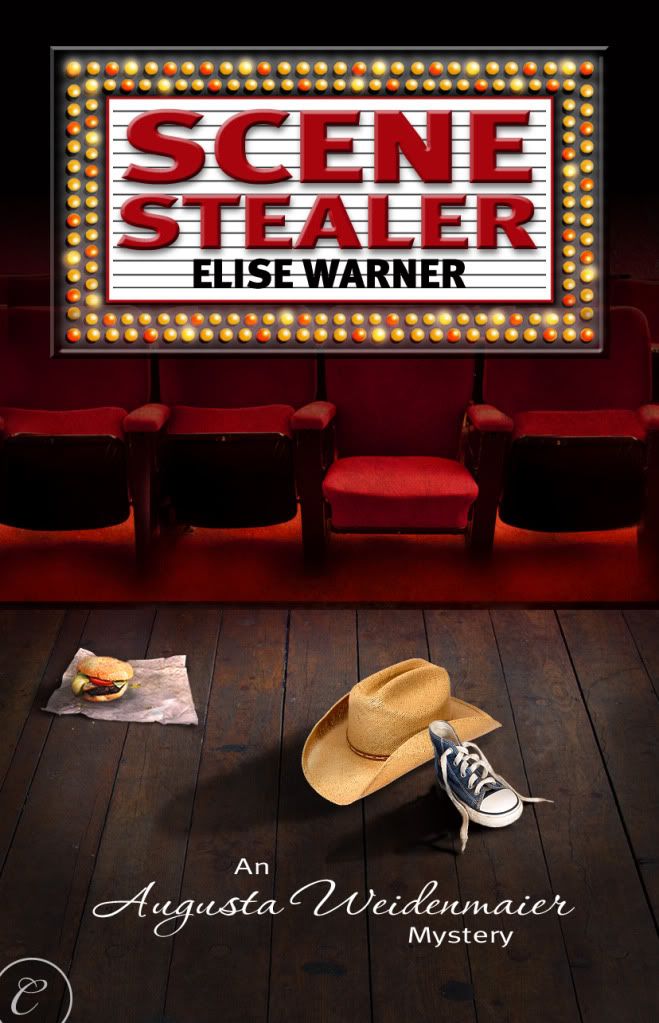 Hello readers and writers: Welcome to my blog. I'm Elise Warner, the author of Scene Stealer. I'd like to share a short excerpt with you. Here are the thoughts of Kevin Corcoran, the nine year old boy who is a spokesperson for Cowboy Bob's Big, Bad Burger. Kevin has been kidnapped and is locked in the cold basement of an Off-Off- Broadway theatre. A noise wakes Kevin up. The child is cold and frightened.
Could it be a ghost? Ghosts of dead actors wandered around theatres. If this theatre was haunted, he might bump into John Barrymore or Edmund Kean. Would they still be walking around? Maybe they would appear and help him. Probably not. Old actors didn't like children. Didn't like dogs either. Called them scene stealers. Ghosts were silly anyway. "I'm too old to believe in ghosts," he whispered. "Besides ghosts don't wear shoes. Ghosts glide everywhere—through walls and windows and trees—everywhere."
After a chance encounter on the subway, Miss Augusta Weidenmaier, a retired schoolteacher living in New York City, is determined to help the police in the search for missing 9-year-old child actor Kevin Corcoran. Kevin appears in the Cowboy Bob's Big, Bad Burger commercial where he dances with animated cartoon characters.
Once set upon a course of action, the indomitable Miss Weidenmaier cannot be swayed – or intimidated. Never mind that she has no training in law enforcement – she spent decades teaching. She knows when someone is lying. But the closer she gets to finding Kevin, the more she puts herself squarely in a killer's sights…but Miss Weidenmaier will stop at nothing to bring young Kevin home.
As she investigates, she encounters megalomaniacal business executives, stuck-up motion picture celebrities, pushy stage mothers, a rabble-rousing talk show host, a faded Shakespearean actor, and Lieutenant Brown of the NYC Police Department who does not take kindly to amateur sleuthing. Miss Weidenmaier first suspects Robert Barton, the sponsor of Kevin's commercial -. Barton turns out to be a former student – little Bertie Barton. When Miss Weidenmaier manages to meet Barton by posing as a writer, they are both in for a surprise.
Please log on to: my website – www.elisewarner.com, www.twitter.com/elisewarner
My blog – www.elisewarner.wordpress.com www.FaceBook.com/elisewarnerb
• DON'T FORGET: One digital copy of Scene Stealer will be given away to a blog commentator, a twitter commentator and a Facebook commentator.