Life After Joe by Harper Fox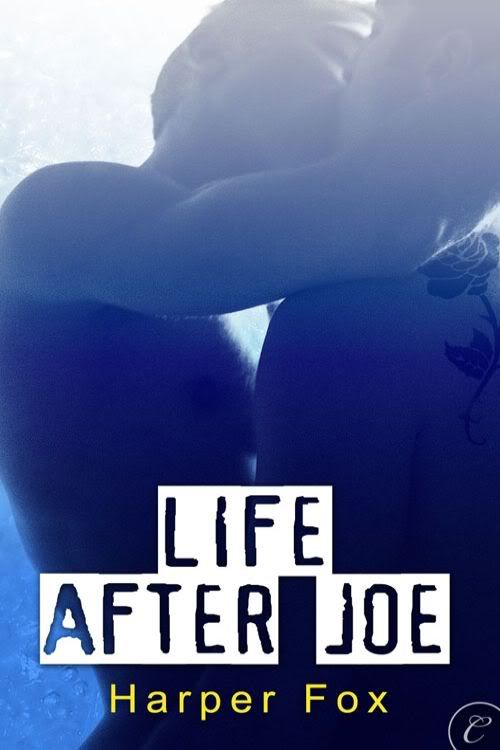 Hello, I'm Harper Fox. My novel Life After Joe is my first-ever book to be published, so I'm very excited about that, and to be part of the Carina launch – a great opportunity, and one I nearly missed because I somehow mixed up my launch date with the date for this blog! So first of all, a massive thank-you to Angela for giving me a little more time, and a warning to you all that my absolute-beginner status will probably make itself clear on more occasions to come.
I love the cover art for Life After Joe. It was an indescribable feeling, opening up the file when Aideen sent it to me as a draft. I can paint, but not very well, and certainly not well enough to pull the images from my head in pictorial form – which is partly why I write, I suppose. There was a strange and almost surreal thrill in seeing my protagonists, Matt and Aaron, there in the gorgeous flesh, Aaron complete with his rose tattoo. Also a sense of double vision – the artist's concept of these two men running alongside my own in my head. And the artist's vision being just as valid as my own, which gave me a fresh perspective on what happens when people read my stories – the alchemical process whereby words on a page become living flesh and blood in readers' minds. I write in quite a pictorial way. I like to write scenes that people feel they could enter and walk around inside and know where everything is, so to have that process reversed on me – to see Matt and Aaron – was bizarre. And wonderful. Oh, the joy of being illustrated!
Anyway, who are these men? Here's the blurb for Life After Joe, to give you a taste…
It's not the breaking up that kills you, it's the aftermath.
Ever since his longtime lover decided he'd seen the "heterosexual light", Matt's life has been in a nosedive. Six months of too many missed shifts at the hospital, too much booze, too many men. Matt knows he's on the verge of losing everything, but he's finding it hard to care.
Then Matt meets Aaron. He's gorgeous, intelligent, and apparently not interested in being picked up. Still, even after seeing Matt at his worst, he doesn't turn away. Aaron's kindness and respect have Matt almost believing he's worth it – and that there could be life after Joe. But his new-found happiness is threatened when Matt begins to suspect Aaron is hiding something, or someone….
I think what I wanted to do more than anything else when writing Life After Joe was to challenge my own belief in the redeeming power of love. I wanted to take a character, break his heart, render him down to substance-abusing despair, then say to Love, or Aaron in this case, "Okay, fix that. Oh, and, er – do it convincingly." Whether or not Aaron, Love and I succeeded will be up to readers to decide, but here's a sample of how we went about it. (Matt's best friend Lou has just made an unexpected and unwanted pass at him in a nightclub. Matt, even full of cocktails and the remains of his previous night's half-unintentional overdose, knows that's a bad idea, but rejecting Lou is about to leave him even lonelier and more lost than before…)
I heard myself say, quiet and polite as if we had been strangers, "Okay. I'm gonna go now, all right? You stay here."
"Oh Christ. You stay, you fucking loser. You'll be lucky if you can still walk."
Was he gone? I supposed so. The lights from the dance floor were no longer beating out his shadow on the table. Just at the moment, I did not want to lift my head and look.
I did not want to lift my head. The stone in my throat had become a boulder, a scald. I thought about what Lou had said. Rationally, I knew he'd been sitting on something—jealousy, resentment, whatever—and for whatever reasons, it had all just come clawing out. I was astonished—Lou, for God's sake!—but I shouldn't give his outburst too much mind.
But I had started thinking about Joe. I'd never been that much to write home about, had I? I'd thought so once—not in any particularly arrogant way, just aware that I was reasonably intelligent, decent looking, capable of loving. Oh yeah, certainly capable of that. And I'd always assumed Joe's defection had been just for the reasons he'd given me. He wanted a girl, and no matter how lovely a bloke I might be, I couldn't answer that. Now I began to wonder. "You fucking loser…" I hadn't been a loser or a drunk back then, but maybe I was lacking things other than tits and a womb that Joe couldn't live without. Maybe I'd been bristling with things he couldn't live with, and he'd never been able to tell me.
I jerked up one hand to my mouth, pressed my palm tight. For a second I thought I was going to be sick. Then my vision blurred, and I knew it was worse. God no, I prayed silently to whatever deity might look after feckless drunks in nightclubs. I couldn't cry here…
The air changed. I squeezed my eyes shut tightly, and all I could see was a retinal jump, red to black, as the pulsating lights swept the room. I didn't really care, but little hairs all down one side of my neck gave a prickle and lifted; olfactory cells fired. Sunlight. No, because that had no smell, but something I associated with sun, as if someone had picked up the Powerhouse from its city-dregs location, dropped it on sand dunes and lifted its roof. Salt. Warm grass. A breath of life from a different bloody world. And weirdest of all, I recognised it. Last time Aaron had stood close to me, I'd been too busy hitting on him to notice the way he smelled…
It must have registered, though. I opened my eyes, and he was there, holding out a hand to me. In the shifting lights, the air which still managed to be smoky, despite the ban, he looked utterly solid and real. His eyes were unfathomable as ever, but their expression was somehow so kind it loosened my joints. He said, smiling faintly, "Do you want to dance?"
Of course I didn't bloody want to dance. If he wanted to talk to me, he could take the seat Lou had just vacated. I looked at his hand. Its palm was broad, the fingers long, eloquent of power. I could see them manipulating steel, vast machineries, hauling up oil from its ancient hiding places under the North Sea. I could see him drawing me to my feet against my will if I put out my hand in return to touch him. I did. I hadn't realised I was cold. When his grip closed round mine, its warmth seemed to shoot up my arm and into my chest. He exerted a gentle tug. "I'd have come over sooner," he said, "but you gave me a good demo the other night of what happens around here to men who move on other blokes' boyfriends."
"Lou's not my boyfriend," I said unsteadily. I didn't want to move. I wanted to hide in this corner until this latest humiliation—public tears, worse to me than public sex—was over. The tugging sensation increased, and I got up, only half voluntarily. He looked into my face. "Come on," he said softly. "It'll be better. Come on."
I didn't believe him, but the sheer technicalities of making my doped body walk with him onto the dance floor distracted me, restored to me some kind of control. I tried to recognise the track. Not "Riverside," thank Christ—something older, from about six years ago. "Pray" by Syntax. Rippling, insistent bass line under a bone-melting vocal. The floor was heaving. I couldn't imagine Aaron leaping about with this bunch of kids, and for me, it would be a physical impossibility. I tried to break away from him.
He put an arm around my waist and, without the least effort or hint of force, reeled me in. I didn't even know what was happening until I was pressed close against him, breathing that sun-and-earth scent. There was no leaping involved. He moved with an unhurried power, picking up the strong first beat in the bar, drawing me in with him, instant sweet synch. His hand went to the small of my back. I clutched at him reflexively, first just in order to stay on my feet, and then because I never wanted to let go.
I hope you enjoyed that. In my next post, I'll tell you a little about the background to Life After Joe, how I came to write it, and how a few uncertain plot-outline notes became a Carina novel!