Men are Only Good for One Thing
I don't know about ya'll, but a man with an accent totally does it for me.
Raimond, my hero, is French. This was a first for me. I don't usually go the foreign route. I like to stick with what I know. Not that I'm opposed to research, I've done my fair share, but I can barely get the English language down why would I try and dabble in one I don't know?
Either way, Raimond refused to be born in the United States and settle for a manly southern drawl. I finally relented. The first time he referred to Sydney, the heroine, as Mon âme soeur, I was sold. No more questions asked. French it is about him having the accent.
Syndey, poor thing, felt the same. She was unable to resist the seductive allure of his accented words. Throw in a couple of French words she had no idea what they meant, but knew by the way he said them they were naughty, the pull was even stronger. Too bad she wasn't looking for something permanent.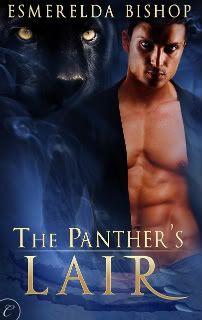 Men are only good for one thing.
Sydney Chase may have sworn off relationships—but she still has needs. So she heads to the Panther's Lair in search of sex: no strings, no emotions. The club owner, dark, mysterious Raimond Decoudreau, is exactly what she's looking for—his French accent alone makes her hot. Fortunately, his mouth has other sinful talents, as well…
After just one night with Sydney, Raimond knows she's his. And when the time is right, when she loves him in return, he'll reveal his deepest secret. For now, he'll enjoy pleasuring her in the most intimate of ways.
But when Sydney's life is threatened, Raimond's instincts take control, and she gets a glimpse at the beast within…
And what's a teaser without an excerpt, hmm?
With images of Sydney cowering against a corner wall, blood trailing down the left side of her face as the man stood over her, threatening her with his strength and presence, the transformation began.
Bones popped as Raimond bent to all fours; a slick black coat sprouted from his pores. Sydney's pleas for John to spare her life filled his ears, and rage engulfed him. He raced forward, sailing into the kitchen window with a caterwaul. Shattered glass flew everywhere, and the pair froze.
Sydney screamed, her face draining of any remaining color. The bastard stumbled backward.
Snarling, Raimond placed himself between Sydney and John. His satisfaction spiked at seeing the man who got off on frightening his mate whimper like a weakened fool. But whimpering wasn't enough. This man had made her fear for her life, made her bleed.
Raimond lunged forward and pinned him to the ground. He brought his whiskered face close to the other man's, letting his mouth open to show his sharp, feline teeth. John's face whitened, and he screamed in manic shrieks.
The only thing keeping Raimond from ripping the man's throat out was knowing Sydney was watching. He would never leave that kind of image in her mind.
He sniffed the man's neck. Angry growls rumbled deep in his throat. He wanted to bask in John's terror, hoped he got a real feel for what it was like to be defenseless, powerless to stop someone stronger. The man squeezed his eyes shut, tears rolling down his cheeks. "Please. Oh God. Please."
Seeing he'd accomplished his goal, Raimond moved off John just as Sydney bolted from the corner. John snatched her wrist and yanked her on top of him on the floor as he pushed backward into the corner, holding Sydney between his legs as a shield. Raimond hissed, baring his teeth. Her gaze dropped to his canines. Violent tremors shook her body, and tears shone in her eyes. "Please don't hurt me."
The agony of her ever thinking he could hurt her, even in this form, made him cringe. Her terror erased his vengeance, and he meekly lowered to the ground, resting his head between his paws.
John shoved Sydney forward. Screaming, she landed hard on her stomach, her face inches from his paws. John surged to his feet and flew into the kitchen. It took everything in Raimond not to go after him, but Sydney's trembling frame kept him planted. No more horror for her. None. They knew who the assailant was, and the police would be called. In the submissive pose, he didn't move a muscle, waiting for her to understand he wouldn't hurt her. Slowly, she lifted her head, and they stared at each other, nose to nose.
"Yellow eyes," she breathed.
**reminder: Commenting on an author's blog entry/entries for the day will enter you to win a digital copy of their Carina Press title. One winner daily. Commenting on any of the Countdown entries will enter you into the big giveaway for a Carina Press promo prize pack. One winner at end of Countdown.**