Voices from the Past
I hear voices. They keep me awake at night, telling me stories, or telling me what I got wrong when I wrote their stories earlier that day. Occasionally they don't wait for me to go to bed.
When I started writing Texas Tangle I had no plans to write a historical about Dillon's great-great grandparents. But then I wrote a scene where Dillon's grandmother planted the idea for Nikki, Dillon and Brett to consider turning their relationship into a permanent one. Grandma Barnett was a hoot to write. Strong willed, outspoken, she's not exactly subtle, especially when she picks up on the vibes between Nikki, Dillon and Brett:
She leaned toward Nikki as if she was going to whisper a secret, but didn't lower her voice. "My grandparents had a permanent threesome all their adult lives. Betcha Dillon never told you that before."
Um, gee, Grandma, way to spring another Texas-sized plot bunny on me (have you seen the size of the rabbits in Texas? They're HUGE compared to the ones we have up here in Canada.) Sure enough, that line stuck with me and soon the voices of Dillon's great-great-grandparents, Jackson, Nate and Sarah started bugging me to write their story.
"But it's a historical,"  I whined to them. "Texas Tangle is a contemporary; my reader's won't want to jump back 130 years into the past."
Turned out the three of them were as stubborn as their granddaughter and didn't stop nagging me until I gave in:
"Danged devil's rope." Jackson Kellar checked the stallion's withers where the barbed wire had nicked it. "It ain't too bad though, Nate. Shouldn't be a problem for the trip back home, less it festers."

"Good. McLeod was right about this fellow being high-spirited. It should be a treat to ride him." Nate ran a hand down the horse's neck and crooned softly until it gentled. Nate had mighty talented hands when it came to soothing the beasts. Or any other animals he came across.

Jackson included himself on that list.
As soon as I wrote those first three paragraphs,  I realized Grandma Barnett didn't know the whole story about her grandparents' relationship. Sure enough, a couple pages later that suspicion was confirmed when Jackson had the following thought:
Ah, well, he knew it was too good to last. Besides, it was probably better if Nate did take a wife. Their relationship was downright dangerous. A woman in the house would put any rumors to rest. Of course, he'd have to find somewhere else to live if Nate wedded.
Oh boy, yes, this was a story I had to tell. Of course that meant researching 1880s Texas as well as tackling how a woman back in those days would view finding herself legally married to a man in love with another man.
"Come on, Nate. You gotta fight this." The tenderness in his voice brought tears to Sarah's eyes. Especially when he leaned over the still figure on the bed, putting his mouth next to Nate's ear. "You can't leave me. Don't die on me, you hear?"

She could barely hear Nate's rasped response. "You've got Sarah now. You won't be alone."

"Damn it, you can't die. I love you." Jackson gathered Nate into his arms, cradling him like a child.

Sarah had to step back and rest her head against the hall wall, fighting the tears burning tracks down her cheeks. How she'd long to hear him say those words to her. If he could love Nate, maybe one day he'd come to love her too. Or was it even possible for a man who loved his friend that way to love a woman?
I fleshed out the first couple chapters of Tangled Past and submitted a proposal to my Carina Press editor Rhonda Stapleton. Normally you're supposed to wait until the publisher comes back with a thumbs up or thumbs down before you write any more. (That's because it's no use wasting weeks or months writing something that's going to be rejected.) But Jackson, Sarah and Nate demanded I not wait for a contract, that I tell the whole story of their tangled relationship.  So I continued to write, torturing them and teasing them, sometimes chuckling and sometimes crying as I wrote each scene. By the time my editor emailed me to say that Carina would be acquiring Tangled Past, I'd fallen in love with them as they fell in love with each other.  Now it's finally out for you to read, I hope you'll fall in love with them too. Now if all their descendents would just stop shouting at me to tell their stories too…danged voices…
Married to her college sweetheart and the mother of two sons, Leah Braemel is the only woman in a houseful of men—even their cat Spike is male. Shoving her writing in the closet while she raised her family, she gained some varied and interesting insights while working with former military alpha males in the security industry  and later teaching computers to women escaping abusive relationships. Now a full-time writer, Leah loves tormenting her heroes and heroines before rewarding them with a happy-ever-after. If you want to know more about Leah or her other books, visit her website. You can also find Leah on Facebook or follow her on Twitter.
By the way, because it takes place 130 years prior to Texas Tangle, you don't have to have read one to understand the other but so you can read Grandma Barnett and the infamous dinner scene that inspired Tangled Past, I'm giving away a copy of Texas Tangle to a random commenter today. Just let me know if you normally read strictly historicals or contempories or if it depends upon the story…
*****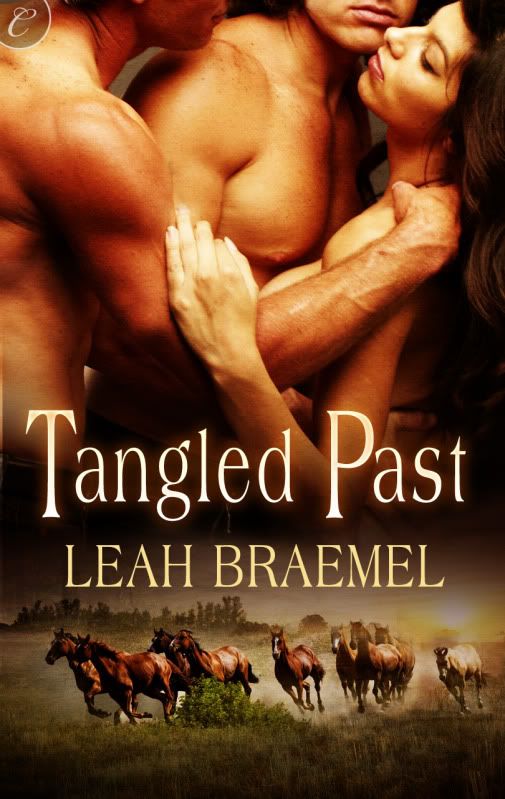 Forced to marry a man she just met, Sarah McLeod clings to the hope that she'll finally find the love and acceptance she's always craved. But her tenuous dreams of a happy life on the frontier are in danger of being dashed by the one thing she can't change—her husband's love for another man.
Jackson Kellar's determined to do right by his bride, yet he's torn between his newfound love for Sarah and his still-burning desire for Nate.
Ranch owner Nate Campbell loves them both. He hates to see Jackson's loyalties so divided, and doesn't want Sarah hurt either. But how can they fix the tangled mess they find themselves in? Nate suggests a possible solution – a permanent threesome.
With the open frontier closing in around them, is Nate's solution their path to happiness? Or will others destroy what they've found together?
Tangled Past – now available from Carina Press