Falke's Captive ~ Layle & Keaton collaboration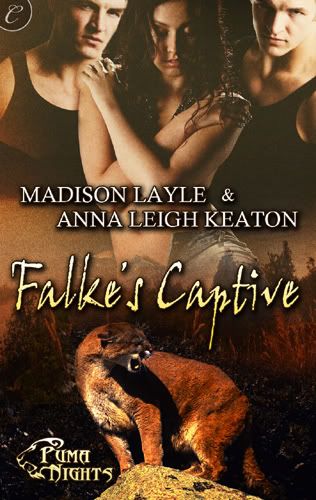 Madi and I are thrilled to be releasing book #2 in the Puma Nights series with Carina Press!
Our journey together started over six years ago, and being published with Carina has been nothing but a wonderful experience. From the first phone call from Angela James to tell us Carina would like to publish Falke's Peak, (Our first, by the way, since we've only been e-published and always hear from our publishers via email.) to our wonderful, amazing, and very patient editor, Gina, and the whole Carina staff, we've been so very happy.
Falke's Captive is special to us, because we've never worked quite this hard before. We wound up throwing out the entire first draft of the unfinished book and starting from scratch because we weren't happy with it, and we weren't about to release a book to our very valued readers that was not as perfect as we could make it. We hope you love Kelan and Reidar as much as we do.
Even though this is the second book in the series, it stands on its own. But we firmly believe that once you read Kelan and Reidar's story, you'll be dying to read about Axel and Gunnar from Falke's Peak, and eagerly awaiting our next installment in the series. (Hint, it's their sister's story!)
Falke's Captive has hot triad sex, and a little BDSM. Two brothers, shape shifters of the catamount (cougar) variety, and one woman who comes to love them both—despite, or in spite of, the danger.
Here's the blurb….
A graduate student working in animal genetics, Beth Coldwell is in town to track and tag big cats in the wild. Her prospects for the summer only improve when she meets Kelan and Reidar Falke and decides the sexy brothers are the right pair to fulfill her other, less than scientific, desires…
But her research is a threat to the Falke family secret. When Kelan, in cougar form, is captured, that secret comes closer than ever to being revealed. He escapes, but not before Beth draws a blood sample, and analysis shows this is no ordinary mountain lion.
Kelan and Reidar cannot deny the powerful attraction they feel toward Beth. She might just be their destined mate. But if they reveal themselves to her, will she embrace who they are or see them as just another science experiment?
You can buy Falke's Captive here: Carina Press
You can purchase Falke's Peak here: Carina Press
Join us at www.laylekeaton.com to check out our backlist and blog, along with excerpts from all of our published books. Mine, hers and ours.