Persistance and the Runner's Journey
We all know and love the success stories in this industry. The meteoric rises from obscurity. The hit-after-hit careers that inspire generations of writers. The self-publishing phenomena, bucking trends and making millions in seemingly no time at all.
They spur the rest of us on. No matter how realistic we say we are about our publishing goals, in the backs of our minds we know there's huge success to be had if we work hard enough and luck smiles in the right way at the right time. We all have it in us, right?
–Insert answer here–
But what about the untold number of books that stall at the starting line? We rarely get to hear those publishing stories because they fizzle and fade to nothing with surprising speed, and who wants to admit failure, right? It needn't be a reflection of the book's quality, any marketing efforts, or even current reading trends. For whatever reason the book just doesn't…catch on.
I've been there and it's heartbreaking. It's incredibly frustrating. You've written a book you know is good, that others who've read it love—heck, it's even nominated for awards—but that alchemic reaction, that elusive spark, just doesn't ignite for long enough. There's no rhyme or reason for it, it just wasn't meant to be.
Or was it? Because perseverance wouldn't exist without setbacks. You can't do anything about luck, but you can choose not to quit.
Alien Velocity is the new and improved, raring to go, EPIC Award-nominated novella about a long-distance runner's odyssey on the far side of the galaxy. The hero's journey, much like the author's, is about second chances and perseverence, and having faith in one's own abilities, no matter the odds stacked against him. Carina Press jumped at the chance to publish this unusual SF tale, especially as they'd already acquired my novel set in the same Cosmic Sparks universe, Sparks in Cosmic Dust.
And it feels like Charlie Thorpe-Campbell's adventure has found its home at long last. He'll be joined by two more Cosmic Sparks novellas on the way in 2012.
The race is on!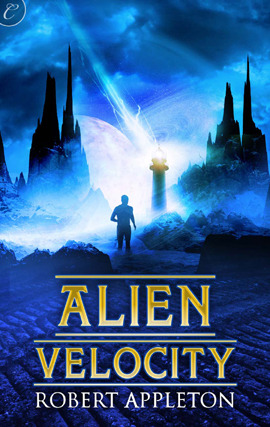 Charlie Thorpe-Campbell is the greatest RAM-runner the world has ever seen–and he knows it. On the verge of retirement from the sport, he is defending his title as champion of the annual orbital race one final time when he's suddenly hurtling away into deep space.
Charlie's unscheduled voyage through a wormhole ends with a crash-landing on a most unusual planet, with scores of spacecraft from all corners of the universe in orbit. Seeking help, he heads toward what appears to be civilization, unaware of the horrors waiting for him there…
Once inside the great, orb-covered city, Charlie is thrust into intergalactic competition by a bloodthirsty alien race. When he discovers he can use his unique abilities to save not only himself, but the entire galaxy, will he face up to the challenge–or run from it?
Previously published as Charlie Runs Rings Around the Earth, newly revised by the author.
39,000 words
Robert Appleton is an award-winning author of science fiction, steampunk and historical fiction. He lives in Bolton, England. Soccer and kayaking are his two favorite outdoor activities. Though he's traveled far, he loves the comfort of reading books or watching movies at home. His mind is somewhat mercurial. His inspiration is the night sky.
Catch him online at his website: www.robertappleton.co.uk
Blog: https://robertbappleton.blogspot.com
Twitter: www.twitter.com/robertappleton
Facebook: www.facebook.com/robertbappleton