Sharing Hailey: The Fantasy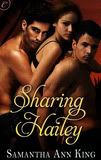 When I was in high school, I desperately wanted an older brother. Two, three, four years older. I didn't want him to help me with my homework or protect me from bullies. I wanted to date his friends. And of course, he would have had smokin' hot friends. Otherwise, what's the point?
I didn't have an older brother. I didn't even have an older sister whose leftover boyfriends I could poach. So I had to fend for myself. But these many years later I still fantasize about what it would have been like. "Fantasize" is the key word here because the fantasy is so much better than the reality. I know this because I had girlfriends with older brothers, and guess what? They didn't date their brothers' friends.
But back to the fantasy, aka Sharing Hailey. Hailey's got a problem. She's in love with her older brother's two best friends. Has been since she learned that boys were good for something other than playing tag and baseball. And that was what . . . twenty years ago?
Separately, Mark and Tony are smokin' hot. Together they are the perfect man. They are the fantasy.
What happens when fantasy becomes reality? What happens when twenty-odd years of pent-up sexual frustration is released? Well, the course of true love is never smooth. What would be the fun of that?
Now, please tell me I'm not the only one who lusted after my fantasy brother's fantasy friends. Or if you were lucky enough to have an older brother, did you date his buddies? Did you want to date them?
Samantha Ann King spent the first half of her life in Texas and the second in New Mexico with a brief layover in Louisiana. After receiving her BBA in Finance from Texas A&M, she decided she wanted to be a writer when she grew up.
Learn more about Samantha at her website, on Facebook , and on Twitter.