The story-writing journey begins with a single word step
I've a huge interest in the war poets of WWI, and the soldiers who fought in France and Belgium between 1914 and 1918. I get bored by books giving details of battles, the chronology and geography of the fighting, but I love biographies of poets like Sassoon and am fascinated by the "Voices from…" series by Max Arthur, where people involved in the conflict describe their experiences. By turns amusing, frightening and profoundly moving, those real life stories – and the poems written by men like Wilfred Owen – create a vibrant picture of life back then. How could I fail to be inspired?
That inspiration has come out before, in a book set in 1919 and as the background to a short story, but the era hadn't been written out of my system. So, in typical Charlie fashion, I opened up a new word document and started to write. No plot, no characters, "no nuffink". Just one word and then another, until I had:
First light. A distant sound of something heavy being moved. A thin curtain of rain—the sort of misty, drizzly rain that soaked us through to the skin. Prospect of something for breakfast that might just pretend to be bacon and bread.
Good morning, France. An identical morning to yesterday and bound to be the same tomorrow.  Tomorrow and tomorrow, world without end, amen. 
And that has survived from first draft through edits to finished story, a story which has been really well received by reviewers, some of whom don't routinely read m/m romances, which is what Promises Made Under Fire became, once it had characters and plot. Those books I'd read about Owen and Sassoon began to manifest themselves in a narrator, Tom, who was himself gay and – as was normal at the time – deeply closeted. The first hand accounts from officers and soldiers were woven into Tom's story, almost without me having to consciously think about it, those unseen voices whispering in my ear as I wrote.
Tom gained a fellow officer – Foden, named after a rugby player as so many of my characters are – and, eventually, an unexpected love interest. All of a sudden I had a real, proper story arc, which I kept developing, one word and then another.
So, tell me – how do you craft a story? Are you a plotter, a pantser or a 'word by word'er?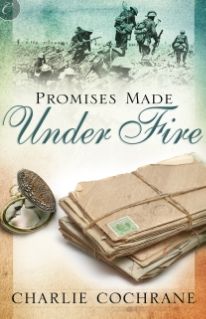 France, 1915: Lieutenant Tom Donald envies everything about fellow officer Frank Foden – his confidence, his easy manner with the men in the trenches, the affectionate letters from his wife. Frank shares these letters happily, drawing Tom into a vicarious friendship with a woman he's never met. Although the bonds of friendship forged under fire are strong, Tom can't be so open with Frank – he's attracted to men and could never confess that to anyone.
When Frank is killed in no-man's-land, he leaves behind a mysterious request for Tom: to deliver a sealed letter to a man named Palmer. Tom undertakes the commission while on leave – and discovers that almost everything he thought he knew about Frank is a lie.
You can reach Charlie at cochrane.charlie2@googlemail.com (maybe to sign up for my newsletter?) or catch me on Facebook, twitter or goodreads.