Food for Thought
The Carina Press authors are "Getting in Character"!
What is your character's favorite comfort food, and why?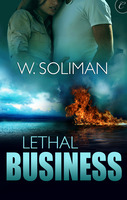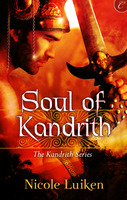 Charlie Hunter has spent twenty years as a detective so he's seen it all, been there and bought the T-shirt. In a previous life he was a promising jazz pianist, now he's a forty-something early retiree living on his trawler yacht, trying to ignore the world. Only problem is, the world isn't ready to give up on him and he keeps getting dragged back into the murky world of crime.
Red meat and carbohydrates. Lots of carbohydrates. Oh, and because he's British, curry, obviously. The hotter the better. It's that macho thing that seems to afflict most British men – mine's hotter than yours.
Lethal Business by Wendy Soliman is available now!
***
Growing up in decadent, corrupt Temboria, Lady Sarathena Remillus often endured lengthy twenty-course feasts, where the hosts strived to provide the most exotic fare like roast giraffe, sweetbird tongues and the heart of a racha.  Now that she's shed her title, Sara can indulge her preference for simpler fare like fresh fruit, especially sweet, juicy peaches… mmmm.  Though she's still a little wary about eating fruit from Kandrith's Grandfather trees.
Soul of Kandrith by Nicole Luiken is available now!
***
Connor MacKay, here. Though I'm fully-grown, I still have a sweet tooth. My sisters like to tease me about it, but, well, I'm a big man. It takes lots of fuel to keep a Knight of the Round Table up and running in a world of vampyres and steam engines. My favorite snack to tuck in my pockets is the cinnamon-toasted walnuts my Nan makes. It turns out my predilection came in handy when I met my Belinda. They'd kept her in a gaol cell without any food. I was able to sneak my sack of walnuts out of my pocket and through the bars. Since they gave her some comfort until I got a real meal into her, I suppose they're even more special to me now.
Sir Connor MacKay, Knight of the Round Table, lives in Edinburgh, though his family estate is near the English border. In 1859, he's only twenty-five, and has already had his heart permanently broken—or so he thinks. Then he meets Belinda, a sassy gypsy widow, and Connor's life will never be the same.
Cards & Caravans by Cindy Spencer Pape is available now!
***
What is your favorite comfort food? Tell us in the comments!