Lethal Business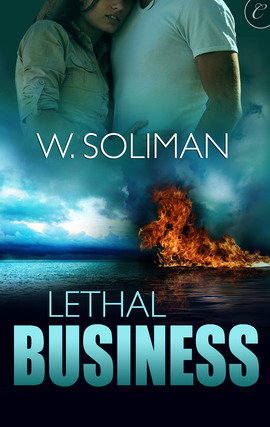 Can you tell if the author knows what he or she's talking about? If writing from personal experience, is there passion in the prose?
I ask because my Hunter Files series is based around boating. Yes, I've done a lot of boating and, wimp that I am, I didn't enjoy it much. But I firmly believe that an author can benefit from all experiences, both good and bad, and make them work in her favour.
I went it along with boating for my husband's sake, enjoyed (some) of the destinations and even less of the getting there. Still, all those hours staring at the ocean, unable to read or type because it made me feel sick if I looked down, didn't go entirely to waste. I might not have been able to work, or sleep come to that—if you've never tried to sleep overnight on a small boat in rough seas, it's a bit like being trapped in the spin cycle of a washing machine—but at least my imagination was in fine working order.
That's how the Hunter Files came about. Being brought up in the town that's the yachting capital of England, I learned respect for the power of the sea at an early age. Charlie Hunter, my hero, shares that respect and, like me, understands the realities of the boating world. You either love it or hate it. He veers on the love side of the divide.
Lethal Business, the third in the Hunter Files trilogy, came about after I'd watched the results of the last general election in England. The pundits seemed surprised when some of the smaller parties, fiercely opposed to Britain's 'open-door' policy on immigration, did so well. That got me thinking. How far would ambitious politicians actually go to court the votes of those dissatisfied by the thorny issue of immigration?
My hero Charlie observes a boat exploding at sea and then someone deliberately running down the survivors. He's in the wrong place at the wrong time and has no idea that he'll be pulled into the political intrigue from hell—an intrigue which could cost him and his girlfriend their lives…
There's lots of action at sea, much of it shamelessly cribbed from real-life experience. Does my dislike of boating stifle the story?
I'll leave you to decide.
Lethal Business by W. Soliman now available from Carina Press https://bit.ly/Xryu for just $.269 and all on-line outlets https://amzn.to/XtLvAF
Find out more about me and my books on my website www.wsoliman.com
Follow me on twitter: @wendyswriter or find me on Facebook: Wendy Soliman – Author
W. Soliman