How a Book is Born
How a Book is Born
Everyone ask writers how they come up with their ideas. The Stolen Luck was born out of a move to the wine country of Oregon, a lifelong love of fantasy, a stray comment from one friend and a long conversation with another.
I moved after my divorce to live closer to the barn where I kept my horse, but I quickly fell in love with my new locale. Every morning on the way to work, depending on the weather and season, I drove past vineyards shrouded in mist or golden in the new light stark brown and fallow and dreaming of spring to come. Every weekend some winery was hosting a tasting; Thanksgiving and Memorial Day weekends meant a blitz of wine tours. Even if you don't work in the industry, out here wine gets into your blood and seeps into your soul.
About this time, I had a conversation with another avid reader of fantasy. The topic turned to tropes that are too often badly handled in fiction, and how to turn them around so that they could make realistic, believable, and interesting fiction. We both agreed that the master/slave relationship topped the list of badly done plot devices. If someone is a slaveowner raised in a culture where slavery is the norm, that person is unlikely to have moral qualms about treating another person as property. Someone who doesn't believe in slavery is unlikely to have a slave. The way to make the trope work as real and interesting fiction, I proposed, was take a character adamantly opposed to slavery and give him a compelling reason to acquire and keep a slave. The moral stakes that drive him have to be high enough to equal the immorality of owning another person.
The obvious question is why? And what does the character in this dilemma do? And what effect does the decision have on them?
I remembered a comment another friend of mine had made. I can't even remember the context, but she said that the tragedy of imbalance of power is not just what it does to the powerless, but also what it does to the soul of the one in power. Yes.
Story elements started coming together. A vineyard owner raised to abhor the custom of slavery . The vineyard he loves is imperiled, the vineyard that supports not only him, but his family and all those who have served his family for generations. Why is the vineyard in danger?
I shot off an email to a vintner I met once on a quest for a certain late-harvest pinot gris, a vintner who I knew shared my love of fantasy. We did some online brainstorming.
A talisman is stolen, a talisman that kept the vines and the people healthy, that made the Dupree wines prized above all others.
So where does the slave fit in? The vineyard owner, James Dupree, discovers that the talisman has disappeared into the elven sanctuary, the Lands Between. He needs an elven slave to cross the magical boundary. When the slave proves untrusting and resistant, James finds it too easy to use his power as master to command and threaten him into obedience, hating himself more each time. This pattern continues even as the two forge a friendship out of shared danger, and each instance becomes a small betrayal.
How to make his dilemma worse? He falls in love with the slave, and cannot approach him or even confess his love. Since a slave cannot refuse, a slave cannot truly consent, and James will not further compromise his morals by bedding someone who may not be entirely willing.
Meanwhile, Loren faces his own conflicts— his resentment of his slavery versus his respect for James and the complicated feelings he has for him.
How to make the risks higher? They are pursued by enemies known and unknown, and finally James must choose between Loren and the Luck he needs to save his family and all who depend on them.
How does it end? Well, I'm not going to tell you that part. You'll just have to read the book.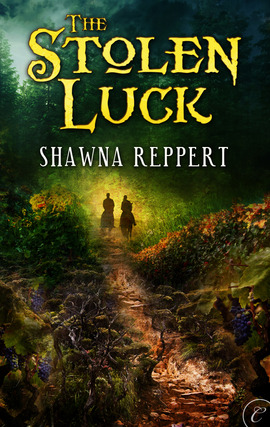 ***
The Stolen Luck by Shawna Reppert is available now!