The Alchemy of Scent
Scent. It's all around us. Every day we breathe in thousands of unique scent signatures and scarcely notice any save the extremely fragrant or pungent.  Some have even argued that smell is the weakest of our senses.
When I started writing Journey of Dominion, I needed a weapon that would appear completely innocent on the surface. What I was looking for was right under my nose. (Pun intended) Scent plays a bigger roll in our day to day activities than most of us realize.
I have always enjoyed the smell of a clean house. It relaxes me. To me, it smells like accomplishment.  My high school science teacher used to rent houses. He once told me he placed a small container of pine cleaner in the house because it encouraged renters. It smelled clean. A real estate agent confided that if you bake cinnamon rolls or bread while showing a house, the house would sell. Why? It smells like home. The sudden whiff of a perfume can bring back vivid memories of a loved one.
Scent even plays a role in how we choose our mates. Pheromones are more chemical than scent but they trigger the brain through our sense of smell.  Scent can elevate a mood. Aromatherapy, although growing in popularity, has been around since ancient Egypt. Essential oils, which contain the essence of a plant's fragrance, are available not only at health stores but at the local drug store. I know from experience, a little dab of lavender behind the ear can ease a headache or help with sleep.
The sense of smell is processed by the limbic system which plays a role in how we behave and how we think. Our brains recognize and respond to scent faster than any other stimulus such as sight or hearing. And breathing is something we can not avoid. We breathe in over 20,000 breaths every day, each laced with some fragrance.
So what if instead of helping someone remember, there was a fragrance that made you forget? A fragrance that slowly dulled your memory of who you are and why and left you open to suggestion. Would you know how to defend against it? Would you even think to?
This is only one of the challenges Ilythra must face when she finally confronts the Crioch's keeper in the Journey of Dominion.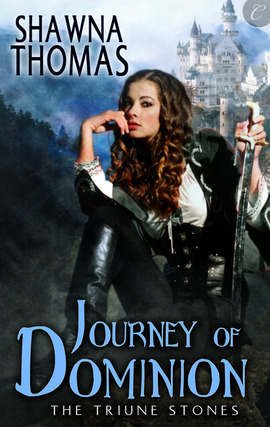 Journey of Dominion is now available at Carina's website, on Amazon or at Barnes and Noble.
Winner of a 2011 RT Reader's Choice award for her debut book, Altered Destiny, Shawna Thomas has been making up stories ever since finishing GONE WITH THE WIND. Once she put her own ending in writing, there was no looking back.
A wife and a mother of seven, Shawna lives in California where she gardens, writes, and drinks a lot of coffee. Visit her on her blog, twitter or Facebook.
If you'd like to read a little more about scent, here is a group of articles from Psychology Today.