Quick! Say Something Sexy
Love Letters Volume 3: Wicked Whispers is now available, and that means the Love Letters ladies are talking dirty.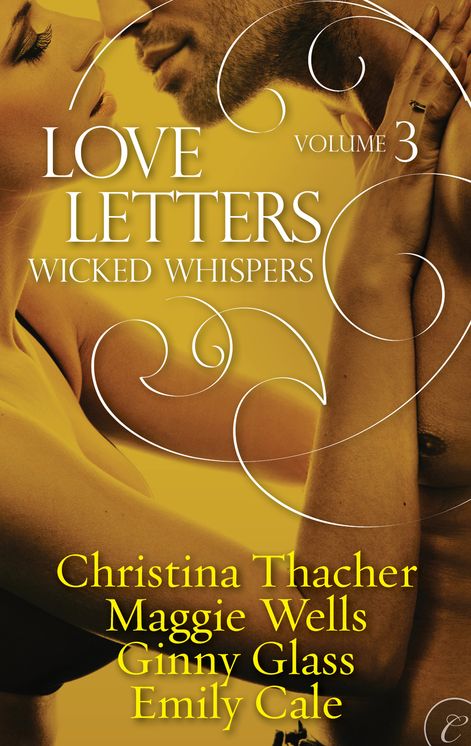 Well, not really.
You see, Love Letters Volume 1: Obeying Desire marked a first for all four authors – first audiobook release. Here's their take on the latest installment in the Love Letters series and hearing their work read aloud:
I Is for Indecent by Christina Thacher
I'm a lawyer. We talk a lot. It's pretty much in the job description—will yammer at anyone for money! But when the talk involves sexy stuff? Not so much. Lawyers tend to keep things dry and a bit dull. I can only imagine what a super sexy man might say to me, if he was inclined to seduce me with words.
When Ginny, Maggie and Emily agreed to a Love Letters volume where every story involved sexy conversation, I was thrilled. Here was a chance to put my imagination to good use. I dreamed up Stefan, the hottest man I could think of and then I put words in his mouth. Hot words, seductive words, words guaranteed to get a woman in bed.
Then we found out that the first two volumes of Love Letters were going to be available on Audible. That's a huge honor…and a little bit scary. Hearing words I wrote read aloud? Luckily, the folks at Audible are even better at making words sound good than Stefan is. Whew! Talk about a relief! Now all I have to worry about is the oral argument I have to make in court next week.
J Is for Jaded by Maggie Wells
When I first heard the Love Letters series would be available in audiobook format, it all seemed a bit surreal. You see, long before we knew the title would be picked up by Audible, I went there.
J Is for Jaded, my story for Love Letters Volume 3: Wicked Whispers, takes place in a sound studio. The hero, Vaughan Hatch, is a former rock star turned sound engineer. My heroine? Julie Poplin is a successful audiobook narrator whose husky voice seduces our hero in just a few smoking hot passages. Audio booth sexytimes ensue, our couple oblivious to the red 'RECORDING' light burning bright.
I admit I was a little nervous about listening to the stories I'd written for volumes 1 & 2. I expect I'll be a complete wreck when it comes to volume 3. This is one of those moments that leaves an author wondering… Is this life imitating art or just cosmic payback?
K Is for Kickstart by Ginny Glass
I guess I must have been in Maggie's brain just a little (it's pretty wild in there!) when I wrote my letter for Volume 3. Something about reading out loud, even if the material is not intended to be erotic, is something I find very sexy. So Sophie (frustrated Romance writer) and her editor Oliver (frustrated with her frustration) were born. Sophie has writer's block and Oliver intends to help – but things get a little intense when he finds that she's been using him for her hero's inspiration.
When Love Letters started coming out in audio, I had no problem grabbing a copy and firing up the headphones. I wish I could say that I was in some exotic locale, chasing bad guys with an angsty, rugged cop, or holed up in a bunk on a wild west ranch (can't wait for that volume!) but I was actually in bed in my pj's.
It's a glamorous, life, folks.
L Is for Lessons by Emily Cale
My mother reads my books. No, seriously. On purpose. And then she tells people. Like her friends who have known me since I was a baby. Her hairdresser. Our pastor (gulp).
Yeah, that happened.
Most of the time this all occurs while I am a thousand miles away and can screen my calls. But I was home not too long ago and Love Letters came up. After I answered the question of whether these were children's books (the answer is no, if you are wondering), I mentioned that they were available in audiobook. Of course we needed to listen to the sample right away.
In the middle of a party. At my super conservative Aunt's house. Confession: I'd been too scared to listen before then. It's one thing to write it and read it to myself. Listening to other people say those things…well, I wasn't ready. But if there is one thing family is good for, it's throwing you over the edge. So we listened. It was kind of cool. Fun to hear someone else interpret the way I imagine dialogue.
****
So yeah, a bit awkward in family situations, but the consensus is that a little sexy talk is very exciting. To celebrate, the authors would like to offer one lucky commenter their choice of any volume of the Love Letters series in either e-book or audiobook format. Just whisper something wicked (and your email address) in the comment box below. A winner will be selected at random from all comments posted before 11:59pm CDT on Monday, June 24, 2013.