Delivering two babies in one year
A year ago this week, I sat in a fertility doctor's office and wept. My husband and I had been trying to get pregnant for two-and-a-half years or, as I'd begun to think of it, 30 months of crushing disappointment. After finally admitting there must be a problem, we got referred to the fertility clinic at our local hospital and I was desperate to start the process of investigating what was wrong.
But the doctor said we had to wait one more month before she would even examine me. So I broke down in tears and sobbed in her office until I was a snotty mess.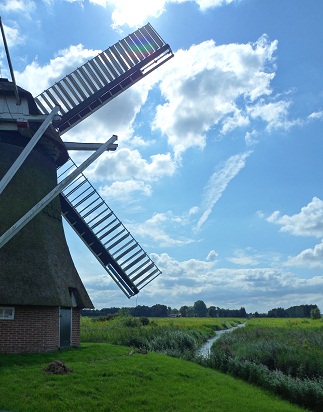 My parents happened to be visiting us in the Netherlands that week, and after the appointment—when my husband had to go back to work—I took my parents on a long walk out to a windmill in the middle of the countryside and I poured my heart out. For years I'd said I didn't want kids. I simply hadn't been ready and didn't like the assumption that I would want kids just because I was female. But that had changed, and I really, really wanted to hold a baby in my arms and know that she or he would be mine to love forever.
After that walk, my mom and I went to a café next door to my apartment to talk some more. I'd just gone to the Romance Writers of America national conference in Anaheim a couple of weeks before, where I'd pitched my novel to Angela James, Carina Press's executive editor. She'd shown real enthusiasm for my story about a bad-boy rugby player trying to avoid the temptation of a good-girl aid worker, and my disappointment over the doctor's decision was slightly tempered by the hope that Angela would like my story enough to publish it.
I'd started writing the novel two-and-a-half years earlier, the same month my husband and I started trying for a baby. Over those years, the act of creating life in my novel helped me cope with my inability to create life in my body.
When Mom and I left the café, the waitress brought us heart-shaped cookies with a little fortune baked into them. I'll never forget mine. Be patient. Good things await you.
Mom and I smiled at each other as I told the waitress it was exactly what I'd needed to hear.
And it turned out to be true. I didn't know it at the time, but I was three days pregnant, and my manuscript was going through a process at Carina Press that culminated yesterday, when my debut novel Knowing the Score was published.
The last year has been nothing short of magical. I got to feel my daughter grow and develop inside me as I worked with my editor to develop and improve my novel. I gave birth to Doodle Bug* a few weeks after finding out Carina Press would publish my Christmas novella and a second book in my London Legends rugby series.
And two days ago, I got to introduce my baby girl to all of her California family for the first time, while yesterday I celebrated the release of my debut novel into the hands of all the readers who've kept my spirits up over the last two-and-a-half years.
What a lucky girl I am.
* not her real name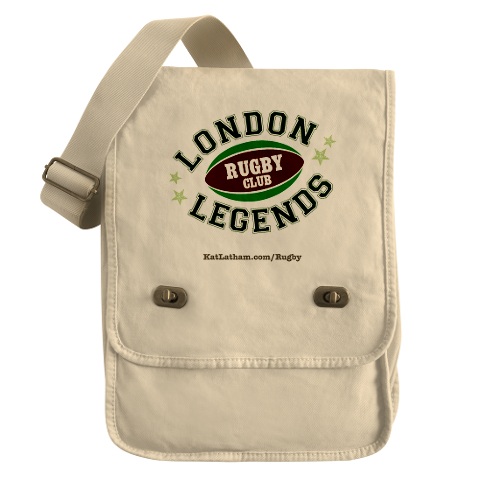 Giveaway!
I'd like to invite you to celebrate with me. Every day this week on my blog, I'm giving away a different contemporary romance novel by my fellow Carina Press authors, along with some special London Legends swag, like this field bag. I hope you'll drop by and join the party!
What's the biggest dream you've had come true? I hope everyone can name at least one!
Knowing the Score by Kat Latham

Book one of the London Legends

Rugby player Spencer Bailey is determined to win a spot on England's World Cup team. But with a month break before the selectors start watching him, he's eager to have fun with a woman who knows the score: the relationship will end when rugby season begins. The lovely American Caitlyn Sweeney seems perfect for the role of temporary lover, since her visa will run out soon anyway.

Caitlyn works for an international disaster relief organization and can handle the world's worst crises, but she flinches from her own. Her past has left her with a fear of intimacy so deep that she has trouble getting close to anyone—until she meets sexy Spencer. His hot body and easygoing nature are too much for even her to resist.

Neither Caitlyn nor Spencer expects to fall hard for each other. But with their relationship deadline approaching, the old rules of the game seem less important than before…until past secrets surface, challenging everything they thought they knew about each other.

Buy it at Amazon.com | Barnes & Noble | iBooks | Books-A-Million
Kat Latham writes sexy contemporary romance. She's a California girl who moved to Europe the day after graduating from UCLA, ditching her tank tops for raincoats. She taught English in Prague and worked as an editor in London before she and her British husband moved to the Netherlands. Kat's other career involves writing and editing for charities, and she's traveled to Kenya, Ethiopia and India to meet heroic people helping their communities survive disasters.
Follow Kat at Twitter | Facebook | Goodreads | katlatham.com