Exposed!
Oops! Sorry, didn't know you were there…Okay, maybe we did.
The Love Letters ladies have been at it again. Want to get a peek at their thoughts on being exposed? Read on!
Be sure to stick around to the end – there's a FREE BOOK in it for you!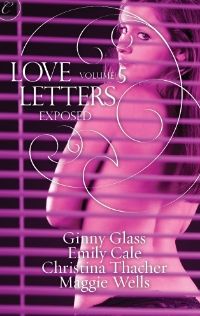 Christina Thacher on why taking a chance can be so hot:
Here's the thing about exhibitionism. It's charming…as long as no one is watching! I know that's contradictory, but really, it's true. You want your lover to see you, sure, but you don't want anyone else to watch. Still, there has to be the possibility that someone else can see. I borrowed a friend's house in the country once. The swimming pool was open on three sides, but there were lots of trees and bushes between the pool and the road on the other side of the house. You know what that means: Nudie bathing! So awesome, swimming naked with a guy. Very sexy, very visceral. Until you try to uh, consummate the occasion and discover that those swimming pool sex scenes in books are wildly optimistic. Anyway, in theory someone could have driven by, but in reality they'd never have seen anything. It's the feeling of exposure that ramps up the sexual tension.
Maggie Wells on sneaking a peek:
I admit it, I'm a peeker. I've never been able to resist a taboo. I'm also the type of girl who likes to cut to the chase. Christmas presents? I knew all my parents' hiding spots. Mr. Wells learned to pay cash for Valentine's treats and birthday gifts long ago. It's not that I don't like surprises. I love them—as long I'm prepared for them. In my mind, hot sex can be likened to a game of chess. A master might guess the other player's next move, but that doesn't dampen their enthusiasm for the game. Heightened anticipation is one of the most delicious bits of pleasure. One I believe is best savored with eyes wide open.
Emily Cale on why confidence is super sexy:
Um…so my heroine gets naked. This describes most of the characters in my books (I am an erotic romance author), but this one does it in public. How many of us spend time complaining about having to wear a swimsuit or skinny jeans? The other day I was talking with a friend about why some people can pull off any outfit they want while others always look out of place. I'll save you two hours of rambling and tell you that the conclusion was that if you look confident, everyone else will go along with it. I'm not saying you should strip naked and let a bunch of strangers eat dinner off of you (though I'm not stopping you either), but maybe a little bit of confidence could go a long way. Hell, if you step out and tell yourself that you are the best looking thing around, I bet everyone else would agree.
Ginny Glass on having an audience:
I'm a drama nerd from way back, so no one has ever had to convince me of the merits of having an audience, but when it comes to sex, the majority of us aren't breaking the fourth wall with any naked body parts. This doesn't mean that the idea of an audience can't be just as powerful – how often are you out doing mundane things with your husband, wife, significant other when they give you all the little flirty signals that let you know you just may be getting lucky? This is the mildest form of exhibitionism, and even if the cashier doesn't know you're headed home to immediately drop the groceries and  some clothing, it can still be a secret thrill. A lot of erotic romance gets a bad rap for catering to too particular of tastes – but next time your husband gives you the bedroom look over the produce section, remember, we've all got some kind of naughty streak in us!
Love Letters Volume 5: Exposed – available now from Carina Press!
Private passion meets public display in these four hot short stories in Love Letters Volume 5: Exposed.
R Is for Reality by Ginny Glass
Sheer desperation drives Mackenzie Alexander to persuade handsome cab driver Greg Redding to audition for a role she's been forced to cast. A role that leads to steamy encounters on and off set…
S Is for Scandalous by Emily Cale
Taking a job as a nude serving dish at a party is a departure for model Kacey James. But the public event becomes something much more private when one of the guests turns out to be a man from her past.
T Is for Tango by Christina Thacher
Adam is shocked when his office's sexy temp, Sonia, starts changing clothes at her desk when everyone else has left for the night–until she makes it clear he's her intended audience.
U Is for Undone by Maggie Wells
Dr. Alec McCarthy has noticed hot nurse and neighbor Sofia Morales around the hospital–but she really gets his attention when she does a striptease for him in front of her window.
New to the Love Letters series? Start reading today! Volume 1: Obeying Desire is FREE for a limited time – download now!
Learning the alphabet has never been so sexy. Love Letters Volume 6: Cowboy's Command available for pre-order now!