The Muses
Sometimes, a writer has a muse. I happen to have a few — four to be specific — and I thought it might be fun to introduce them to you.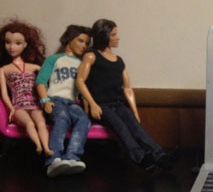 First, there are Jake and Ryan. They hang out on a pink Barbie couch on my desk….along with Bella. Originally, it was just the two guys, but then my daughter thought the guys needed a friend and Bella joined the couch.
I tend to have a lot of dark-haired heroes in my books. Perhaps that's Jake and Ryan's doing. Though in my latest book, All In with the Duke, I bucked that trend. One of the heroes – Tristan – is a ginger-blond. Umm…I need a ginger-blond boy Barbie now.
Then there are the princes – Prince Phillip #2 and Prince Siegfried—who hang out on a shelf above my desk. I adore their formal attire (complete with boots, though neither unfortunately is wearing a cravat), just as I adore Regency men's attire. If I could find a Regency Ken doll, I'd be such a happy girl. But until then, I have Phillip and Siegfried.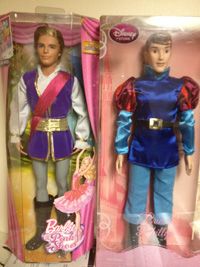 They aren't allowed out on the desk, though. They've stayed in their boxes—I don't want them to meet the same fate as Price Phillip #1 and the Prince. Kidlet got a hold of the first princes. Their clothes disappeared, then they disappeared into the nekkid Barbie bin, never to be seen again. At least they were together.
As a kid, I had only one Ken doll (yes, I was very deprived). Shortly after I got him, he lost his pants. And his shirt. All he had to wear was a maroon velvet smoking jacket. So that's what he wore while hanging with the Barbies in the town house. I don't think he minded.
Did you have a Ken doll as a kid? Did he manage to keep his clothes on? …or maybe that was just my Ken, and the first princes, who had that particular problem.
————————-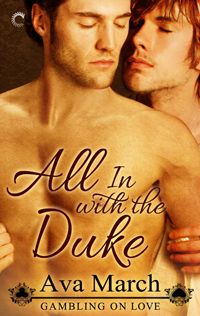 Max Arrington, the Duke of Pelham, vows to never again let a handsome face blind him to a man's true intentions. But ten months of celibacy and lonely nights drive him to a decadent brothel, where a beautiful young man arouses his illicit passions as never before.
Tristan Walsh has grown tired of being used for men's pleasure. But his latest client is different: commanding yet generous, Max makes him feel cared for as well as wanted. Yet Tristan knows he'll never have the choice to leave the brothel and submit only to Max.
So when Max invites him to be his guest at his country estate, Tristan eagerly agrees to his terms—days to do as he pleases while Max tends to the dukedom, and nights spent together in wicked play. But when the "business arrangement" begins to deepen into something more, Tristan must face the fact that he has no true place in Max's life—or in Max's guarded heart…
Buy Link: All In with the Duke
Ava March is an author of smoking hot M/M historical erotic romances. She loves writing in the Regency time period, where proper decorum is of the utmost importance, but where anything can happen behind closed doors.