****-Me Pumps, A Behind the Scenes Look at Shoes and Toys in "The Dom Project"
Hi, I'm Heloise Belleau! Today on the Carina blog, I'll be talking . . . shoes! Coming from a background writing M/M, I was jumping at the chance to write a sexy and sexual heroine–especially her fashions! It was part satisfying to my Barbie-doll-dressing-up childhood self, and part to my attracted-to-well-dressed-women adult self. One thing I particularly enjoyed was picking out her shoes for every scene, whether we ultimately described them or not. Robin uses shoes as a source of sexual confidence, as a form of self-expression, and even to give her a boost in her professional life. Of course she has a varied collection, and as a penniless writer myself, I had a great time vicariously shopping for designer shoes.
Today, I'd like to share with you all a few links from my list of "visual references", also known as "shoes I wish I could own".
Let's start with the basic day-to-day look. Robin's short and self-conscious about it, so her shoe of choice for work is something classic, neutral . . . and with a hidden platform, like these Prada shoes.
When she heads to the BDSM club Miss Kitty's, she tells her blog followers to look for "the petite sub in Louboutins." Maybe these? They certainly do fit the bill for couture-meets-kink!
And for one of her sessions with John, a scene with a decidedly "red" feel from Robin's lingerie right down to the toys they play with (those last two links NSFW!), there's nothing sexier than this pair of shiny, mouth-wateringly candy apple red pumps. Don't those metallic spike heels just add the right amount of edge? These definitely aren't wholesome ruby slippers.
Dressed in vintage style for a sex party wearing a long string of vintage pearls, she opts for this pair of "understated" pink kate spade new york pumps. Yeah, "understated", okay Robin. ;)
One of our goals writing The Dom Project was to write a heroine we'd like to read about–one we really respected and empathized with. So while Robin is a fashionista, and a submissive, she's so much more, too: she's a respected, driven professional. She's type-A and brainy, but her best friend is a tech-geek slacker who'd rather watch old movies than spend a moment in a library. She loves clothes, but she edits her collections so she never needs a walk-in closet. She knows what she wants sexually, but she's having a hell of a time finding it. She's not an ideal heroine or an ideal submissive . . . but she does have the ideal shoe collection. Well, we've all got something.
What about you? Does a heroine's fashion choices add to the fantasy and the wish-fulfillment . . . or is it just a silly, materialistic distraction from what matters? Any well dressed heroines or heroes you've enjoyed in romance or elsewhere? Got a pair of shoes you dream about but are way too expensive to ever own? Tell us all about it!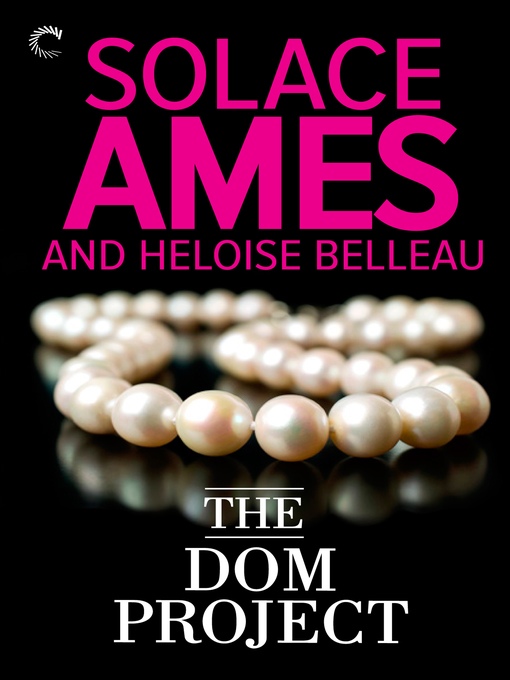 The Dom Project is a friends-to-lovers BDSM and is out December 23rd from Carina Press and all your favorite e-tailers. And be sure to check out its sequel, The Submission Gift by Solace Ames, coming out next year from Carina!
By day, Robin Lessing has a successful career as a university archivist. By night, she blogs about her less-than-successful search for Mr. Tall, Dark and Dominant. Living up to her handle "The Picky Submissive," she's on the verge of giving up and settling for vanilla with a side of fuzzy handcuffs when she discovers her best friend and colleague has a kinky side, too.

Sexy, tattooed techie John Sun is an experienced Dom who never lacks for playmates, male or female. If he can't satisfy Robin's cravings, maybe no one can—after all, he knows her better than anyone. So he offers to help her master the art of submission for one month.

Robin eagerly agrees to John's terms, even the pesky little rule forbidding any friendship-ruining sex. But rules are made to be broken, and once they begin their stimulating sessions, it's not long before she's ready to beg him for more—much more…
For more erotic romance, visit Solace Ames and Heloise Belleau online!
A simple grey pearl necklace plays a large role in the story, and in Robin and John's relationship. Enter our giveaway to win this baroque grey pearl set! The necklace length is 17″ while the bracelet measures 7.5″.  Both pieces close with a sterling silver lobster claw and eyelet.
Just click the link below for instructions on how to enter.