Introducing Carina Adores, a trope-driven LGBTQ+ contemporary romance line, now open for submissions!
Today we are excited to share a new line that's been in the works for months, and one we've been eager to reveal and get started reading submissions for!
Carina Press is pleased to announce our trope-based LGBTQ+ contemporary romance line, Carina Adores. We invite everyone to head over to our submissions guidelines page here for all the details about what the line is, what we're looking for, and how to submit. But for this post, we thought it would be fun to share a behind-the-scenes look at how this idea came to be.
It all started one day, long ago, in Toronto. Our entire editorial team had gathered in the snowy wilds of Canada…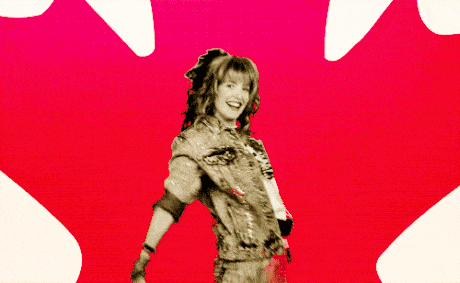 That will be the first and last gif, I promise! I just can't resist a Robin Sparkles reference. 😊
Every two years or so, we get all the freelance and in-house editors together for an editor retreat—a week of strategy meetings and brainstorming. Because our editorial team members are based in many different places, seeing each other in person is a rare and wonderful occasion!
On this particular day, we had been through about three days of hard work—going over processes, discussing upcoming strategy, and of course talking about the latest romance novels we'd fallen in love with. Your typical romance editor stuff. But this day was about brainstorming—an idea free-for-all.
If you've never participated in a brainstorming session, it's a bit like improv (only less terrifying). There are no "no's" allowed—only "yes and"s. Every idea has potential, and everyone should feel comfortable putting ideas forward. So: picture eight editors sitting around a conference room table in Toronto, surrounded by notebooks and post-it notes, amped up on junk food and coffee, and ready to talk romance, and you get the idea.
Someone (I don't remember who, so we all get credit!) started a conversation about tropes, and how so many of our favourite romances, classic and new, were trope-based. Tropes sometimes get a bad rap in mainstream popular culture, but we romance readers know how amazing they are—and how they can be both comforting and groundbreaking, depending on how the author uses them.
We got to talking about how so many of the classic trope-based stories were heterosexual romances, and how the male/male romances we'd read with strong tropes were some of our favourites. Why weren't we doing more of them? Why weren't we doing more of them and expanding the concept beyond male/male to be more truly inclusive LGBTQ+?
And with that, an idea was born.
Carina Press has always published LGBTQ+ romance; since our launch in 2010, LGBTQ+ romance has been a key part of our catalogue. But we had never done anything quite like this before—specifically trope-based LGBTQ+ stories, at a shorter length, with the majority of the story's focus on the romantic build and all the feels that go along with it. Everyone at that table was thrilled with the idea, and eager to get working.
I won't bore you with the details of how we planned for and prepared to announce Carina Adores, but we are happy to say that as of today, we are officially open to submissions on proposal, with an eye to launching our first books in early 2020.
Click here for more details, and, if you have additional questions after reading the information page, you are welcome to email us at Submissions@CarinaPress.com.
Last, a special thank you to everyone involved in working to help create this line, including our marketing team. A special thank you to our freelance editors who gave feedback, insight, advice, and word-smithing, and to the group of authors we asked to review our idea before we made it public. We appreciate all of you!