Choose Your Shot: An Interactive Erotic Adventure
(eBook)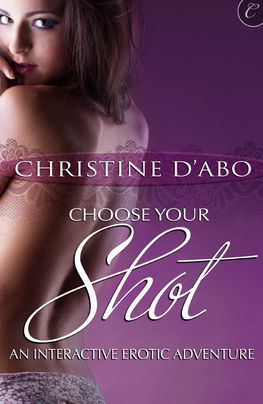 Choose Your Shot: An Interactive Erotic Adventure
About this Book
Come explore the newer, naughtier Maverick's, where you are in control of the story.

It's been a year since the decadent BDSM club was gutted in a fire. Tegan has scored an invitation to the grand reopening, where she can finally indulge the needs she's ignored for too long. On her wicked wish list: a thorough spanking, adventurous playmates and complete erotic satisfaction.

As a switch, Tegan can find pleasure as either a sub or a Domme. The question is, what—and who—is she in the mood for tonight?

Master Grant: dominant and drop-dead gorgeous, he hasn't forgotten their last encounter. He'll make sure Tegan gets what she craves—if she submits to him alone.

Eli: the sexy switch has always wanted more from Tegan. But taking their relationship to the next level could mean risking their friendship.

Adam: the last man Tegan expects to encounter at the club, but one she'd love to see more of—if he behaves…

Choose which ending you want for Tegan, or explore all of the sensual possibilities.