Necessary Medicine
(eBook)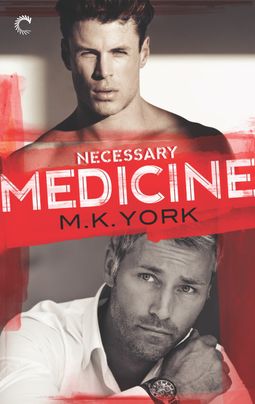 About this Book
With intelligence and humor, debut male/male author M.K. York delivers an emotionally charged slow-burn romance set in a prestigious Bay Area teaching hospital

In the high-intensity world of hospital residency programs, there's no room for romance. So it's a good thing for first-year surgical resident Neil Carmona that his crush on the gorgeous cardiologist Eli Newcombe is sheer fantasy. Not only is the sexy doctor Neil's superior, he's also recently divorced.

As Neil's skill as a surgeon grows, so does his friendship with Eli, and his silent, hopeless longing for more. It isn't until Neil's final year that Eli at last admits his own deepest desires. But Neil's joy is short-lived: Eli has no intention of pursuing a relationship. Their positions in the hospital would make it unethical, even if he was emotionally ready for someone new.

Wounded and furious, Neil is determined to forget about Eli once and for all. But when a near-tragedy strikes, a new question arises: Is a life without love—without Neil—a greater risk than laying his heart on the line?

This book is approximately 78,000 words

One-click with confidence. This title is part of the Carina Press Romance Promise: all the romance you're looking for with an HEA/HFN. It's a promise!