The Boy Next Door
(eBook)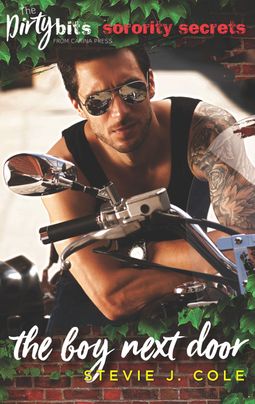 About this Book
Sorority Secrets: The virgins of Beta Kappa Nu would do anything for each other. Even auction off their most valuable asset…

I've been in love with Emma since we were thirteen years old.

That part is real. But nothing else they say about me is true.

The way she looks at me from across the room, how she makes my old T-shirts look good, how perfect she feels when she's in my arms. That's what I want to picture when I think about Emma. Not a crazy auction where she gives it up to some random creep.

I can't let it happen. I won't let it happen.

Despite the tattoos, despite the rumors, despite my reputation as a class-A player—there's never been anyone else. In my bed or in my heart.

It's always been Emma.

This book is approximately 19,500 words.

For those times when size does matter. The Dirty Bits from Carina Press: quick and dirty, just the way we like it.

One-click with confidence. This title is part of the Carina Press Romance Promise: all the romance you're looking for with an HEA/HFN. It's a promise!